Plant Care for Janet Craig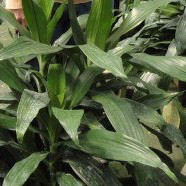 Dracaena Janet Craig
Janet Craig is a fairly common Dracaena houseplant and is sometimes referred to as Corn Plant. Janet Craig is grown in a variety of forms including the tip, bush and cane. This glossy, dark green plant can be anywhere from one foot tall to twenty feet tall, though it is uncommon to find them at that height except in interior landscapes or the jungle. Some of the more common dracaena houseplants you are likely to find are the Marginata, Warneckii and the Massangeana. All of these make great additions to any home and require minimal care.
Janet Craig does best in a medium to bright light situation but with good care can be maintained in lower lighting. It is prone to root rot if overwatered in lower light. Keep Dracaena Janet Craig in bright, filtered light if available. Direct sun is not recommended. For more information on proper watering of your Dracaena Janet Craig, see below and check out the page on general indoor plant watering practices.
Do not make the mistake of planting directly into a container that has no drainage holes. This can cause problems with plant roots remaining too wet, depriving them of oxygen and eventually killing your plant. It is best to leave your plants in a nursery pot with drainage holes at the bottom and set that into the pretty, decorative container you purchased for your home. Make sure you size properly as there should be an inch or two of room between the decorative container and the nursery pot. This will provide adequate air circulation and aeration for the plant roots. If direct potting, use a clay pot or a container made of wood as these are more porous and will allow the root system of your plant to breathe.
Watering Janet Craig - In lower to medium light, water when the potting soil has dried almost completely to the bottom. A Dracaena Janet Craig that is in bright indirect light can be watered when the potting mix has dried down to one-half its depth or a little more. Please see information on light for house plants and watering indoor plants as these have the greatest impact for great houseplant results.
Remove lower leaves as they yellow and trim brown tips as needed. It is normal for a new plant to shed its old foliage when it is moved to a new and different environment, so expect new additions to your home to do this and don't panic! Given the proper care, it should acclimate and become a beautiful, trouble free plant. Keep your dracaena's foliage clean and initially keep an eye out for insect problems. Mites, mealybug, thrips and scale can sometimes be a problem but a good wash down with soapy water should be sufficient to control these pests. Just make sure you treat as soon as you notice a problem as they can and will damage your plant.
Thanks for visiting and come back soon as plant care information, pictures and more are being added all of the time. I hope that your Dracaena Warneckii and all of your plants and flowers are happy, green and growing because that is why I started this site PlantAndFlowerInfo.com. If you have indoor plant questions or advice visit the PlantAndFlowerInfo blog to post your own comments or questions. Thanks Plant People!
Related links: Watering Indoor Plants Lighting Indoor Plants Best House Plants Plant Pictures PlantAndFlowerInfo blog