Corn Plant Care
Dracaena Plants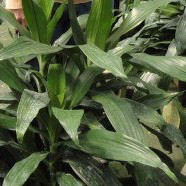 Dracaena Janet Craig
Corn Plant
Referred to as Corn Plant by some people, a few of the dracaenas do resemble corn. The Dracaena Fragrans and Janet Craig are sometimes called Corn Plants and plant care is similar for most of the dracaenas, including Massangeana, Warneckii and the graceful Marginata. The picture to the right is the Dracaena Janet Craig, a commonly used interiorscape plant. See links below for pictures and care of Dracaena Warneckii or Dracaena Marginata.
A popular member of the Dracaena family, Janet Craig, or Corn Plant, is one of the more common Dracaena found in homes and interiorscapes. Corn Plant is grown in a variety of forms including the tip, bush and cane. This glossy, dark green plant can be anywhere from one foot tall to twenty feet tall, though it is uncommon to find them at that height except in interior landscapes or the jungle. Some of the more common dracaena houseplants you are likely to find are the Marginata, Warneckii and the Massangeana. All of these make great additions to any home and require minimal care.
Each plant and its environment are unique. Remember this when caring for any of your plants. When watering any indoor plant you need to take into consideration the lighting and local environment in which the plant is placed. Corn Plant does best in a medium to bright light situation but with good care can be maintained in lower lighting. It is prone to root rot if overwatered in lower light. Keep your Dracaena in bright, filtered light if available. Direct afternoon sun is not recommended but some early morning sun can help keep your plant full and growing. For the most part, Corn Plant is a beautiful easy care house plant. Watering guidelines for Dracaena are below. Reading the information on watering your indoor plants will be most helpful in keeping your plants healthy and growing.
Watering Your Corn Plant - If you have a 10" diameter grow pot or larger, it is a good idea to check the soil with a soil probe before you water as it can be difficult to check the soil in a large pot with your hands. In lower to medium light, let dry down almost completely to the bottom of the grow pot. In bright light let the potting media dry down at least halfway, if not a little more. Please check out the page on guide to indoor plant watering and lighting.
It is always best to leave your plants in a nursery pot with drainage holes at the bottom and set that into the pretty container you purchased for your home. Make sure you size properly as there should be an inch or two of room between the decorative container and the nursery pot. This will provide adequate air circulation. If you must direct pot, use a clay pot as this is porous and will allow the root system of your plant to breathe.
Remove lower and inner leaves as they yellow. Brown tips and leaf margins should be trimmed with sharp, clean scissors to the natural leaf shape. It is normal for a new plant to shed some of its old foliage when it is moved to a new and different environment, so expect new additions to your home to do this and don't panic! Given the proper care, it should acclimate and become a beautiful, trouble free plant. Keep your dracaena's foliage clean and initially keep an eye out for insect problems. Mites, mealybug, thrips and scale can sometimes be a problem but a good wash down with soapy water should be sufficient to control these pests. Just make sure you treat as soon as you notice a problem as they can and will damage your plant.
Thanks for visiting and come back soon as plant care information, pictures and more are being added all of the time. Thanks again for visiting and I hope that your Dracaena "Corn Plant" and all of your plants and flowers are green and growing because that is why I started this site PlantAndFlowerInfo.com. To email indoor plant questions click here. Or you might want to visit the PlantAndFlowerInfo blog for interior plant questions and answers or to post your own comment or questions.
Related links: Watering Indoor Plants Lighting Indoor Plants Best House Plants Plant Pictures PlantAndFlowerInfo blog