Aglaonema Jewel of India
Plant Care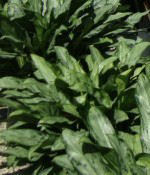 Aglaonema Jewel of India
One of the most commonly used interior landscape plants is the Aglaonema Jewel of India or, as it is more commonly called, the Chinese Evergreen. It is easy to care for and can be maintained at the lower light levels often found in the home or office environment. There are many varieties of this plant and new ones are introduced quite frequently.
The more common varieties are the Aglaonema "Emerald Beauty" or "Maria", "Silver Queen" and the Aglaonema "Silver Bay". They have a bush-like or clumping growth and, depending on the pot size, can be from 8" to 4' in height. Almost all varieties of Aglaonema are variegated to some extent. Keep in mind that the variegated types need more light than those with less variegation. Typically, the lighter the color of a plant, the higher the light levels it needs to maintain its color and variegation.
As I said, this is a great plant for just about any location except full sun. Full sun, especially through glass, will most likely burn the exposed leaves. This plant will survive in low light but for a nice looking plant, try to provide bright, diffused natural light or some artificial fluorescent light. It is ideal for use in professional office space as it is attractive and easy care.
Watering Your Chinese Evergreen - If you place your Aglaonema in high light, you can allow the potting mix to dry approximately three-fourths of the way out before watering thoroughly. In a lower light situation, you can allow soil to dry completely between waterings. Please read the section on watering for more on the most important part of your plant care.
There are a few problems you may encounter with this plant. Mealy bugs are one of the most common insect problems that you will have with chinese evergreen. An oval shaped, somewhat flattened body and six legs distinguish this insect, although they can appear to have more legs because of their "antennae" and "tails". They also have a fringe around the body. A waxy, protective substance covers the body of adults and egg sacs giving them a cottony appearance. They normally are found in hidden areas, undersides of the leaves or in leaf axils. They also excrete a sticky substance called honeydew. Keep a watchful eye out for these pest, especially when you first bring a new plant home.
It is a good idea to treat any new additions to your plant family for a week or two with a spray mixture of water and rubbing alcohol followed with a wash down with mild liquid dish soap and water. Treat until run off, let dry then apply the second wash. You must be sure to hit the undersides of the leaves and the stems also. Never apply with the plant in the sun or when the soil is dry. Twice a week for two weeks and your plant should be safe.
Thanks for visiting and come back soon as plant care information, pictures and more are being added all of the time. I hope that your indoor tropical Aglaonema Jewel of India plant and all of your plants and flowers are happy, green and growing because that is why I started this site PlantAndFlowerInfo.com. If you have indoor plant questions you can send a plant question or visit the PlantAndFlowerInfo blog for interior plant questions and answers, to post your own comment or questions or share some of your indoor plant wisdom with others. Thanks again all of you Plant People...
Related links: Watering Indoor Plants Lighting Indoor Plants Best House Plants Plant Pictures PlantAndFlowerInfo blog